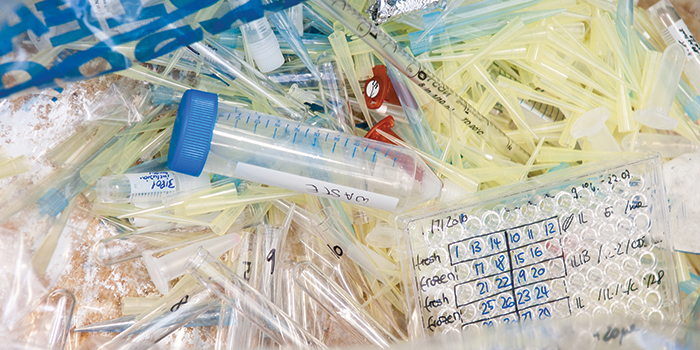 When you're notified of an RCRA (Resource Conservation and Recovery Act) inspection, it's only natural to worry…a lot. After all, fines can be hefty; the highest fine leveled at noncompliant companies is currently over $100,000 per day. What should you expect during an RCRA inspection, and how can you protect your company?
What is the RCRA?
The RCRA was passed by the Environmental Protection Agency (EPA) to help regulate land-based waste disposal, mostly hazardous waste. It's intended to encourage recycling and reduce waste.
The act covers all stages of waste, from those who produce to those who transport and dispose of it. It is focused on solid waste, but it's important to note that for the EPA, solid waste can also be defined as contained gasses, liquids, sludge, and semisolid material. 
While there are a few different types of inspections, an RCRA inspection will most likely be a compliance evaluation. This inspection can be scheduled, but usually it will involve a "surprise visit" from an inspector. 
Preparing for the RCRA Inspection
It's important to have all documentation updated and readily available for the RCRA inspector. This documentation should include employee training, a hazardous waste SOP, and a hazardous waste manifest, signed by a trained employee for up to two years prior to the inspection. 
Make sure you have documentation of all employees designated for waste-handling, and that they are specifically trained for this task. 
What to Expect During the RCRA Inspection
The RCRA inspection will usually involve four distinct activities:
Introductions and understanding the parameters of the procedure

A review of documentation

A site walk-through

A debriefing
Introduction
During this phase of the inspection, you will meet the inspector, introduce them to your designated waste-handlers, and receive more information on how the inspection will be conducted and what you will need to provide for the inspector.
Documentation Review
At this point, the inspector will review your previous waste manifests, waste disposal SOPs, and employee training records.
Site Walk-Through
During the walk-through, be prepared to answer specific questions from the inspector. Answer as truthfully as you can. If the inspector takes pictures of an area or object, it may be helpful to take your own pictures to avoid any unwelcome surprises.
Debriefing
At this point, the inspector will ask a few final questions and share their findings with you. If there are minor violations, you and the inspector may be able to agree on immediate steps you can take to correct them. If you are found in violation, make sure you understand exactly what steps you need to take to become compliant, and the timeframe you will be given for any corrective actions.
Let the Pros Handle Your Waste Disposal
One way to cut down on the uncertainty of an RCRA inspection is to outsource your waste disposal and employee training program to an environmental services company, like CLYM Environmental. We'll help you keep the records you will need to show to prove compliance with the RCRA, and keep your employees' training updated so you can pass the inspection. These inspections are seldom scheduled in advance, so now is the time to contact CLYM for a professional assessment of your company's RCRA compliance.